Atlantis The Lost Tales/Secret d'un monde oublié - Windows10
Posté:
Dim 29 Avr 2018 22:34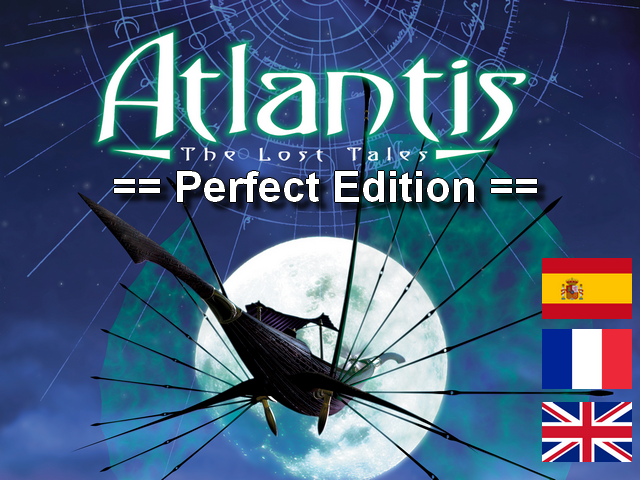 Jeu Complet Atlantis: Secret d'un monde oublié pour Windows 10 sans aucun bug ni soucis en jeu !
Full game version of Atlantis: The Lost Tales for Windows 10 without any bug or problem in-game !
Code: Tout sélectionner

Atlantis: The Lost Tales (Cryo 1997) "Perfect Edition" V1.1 by Tgames
------------------------------------------------------------------
ENGLISH PART :

This version of Atlantis is the perfect version of the game (from the DVD edition, without all the bugs of the CD editions).

Modified by Tgames in order to no use anymore the DVD and get savegames working.

This version doesn't have the guards bugs, no sfx bugs neither.
It works perfectly when the player reach the hangar and saves are working.

NO CD to mount, just extract everything to C:\ hardrive.


Setup :
--------------

0) Extract the zip to the root of C:
It must be C:\CRYO\ATLANTIS\
OR if you choose another folder and drive letter (like D:\CRYO\ATLANTIS\) you MUST do THAT :

<!> EDIT "SETUP.REG" before playing the game ! <!>

Change :

@="C:\\CRYO\\ATLANTIS"

by the drive letter you have extract the game and the path to the game .exe.

For example :
Drive : D:
Path to the game : D:\CRYO\ATLANTIS\ATLANTIS.EXE

@="D:\\CRYO\\ATLANTIS"

1) Launch setup.reg
2) Set Atlantis.exe as "Launch as Administrator".
3) Launch Atlantis.exe !

PARTIE FRANCAISE :

ette version d'Atlantis est la version parfaite du jeu (tirée de celle DVD, dépourvu de tous les bugs présents sur CD).

Modifiée par Tgames afin d'être utilisable sans le DVD et que les sauvegardes fonctionnent.

Cette version n'a pas le bug des gardes, ni des bruitages.
Elle fonctionne parfaitement au passage au hangar et a bien les sauvegardes fonctionnelles.

Elle ne nécessite AUCUN CD, ni rien à monter, simplement extraire le tout dans le lecteur C:\


Installation :
--------------

0) Extraire l'archive au root du lecteur C:
Celà doit donner C:\CRYO\ATLANTIS\
OU si vous choissisez un autre dossier et lettre de disque dur (comme D:\CRYO\ATLANTIS\)
vous DEVEZ faire CELA :

<!> MODIFIEZ LE FICHIER "SETUP.REG" avant de jouer au jeu ! <!>

Changez :

@="C:\\CRYO\\ATLANTIS"

par la lettre de lecteur et le chemin (jusqu'au .exe) où vous avez extrait le jeu.

Par exemple :
Lecteur : D:
Chemin jusqu'au jeu : D:\CRYO\ATLANTIS\ATLANTIS.EXE

@="D:\\CRYO\\ATLANTIS"

1) Lancez setup.reg
2) Mettre Atlantis.exe en lancement mode Administrateur.
3) Lancez Atlantis.exe !

(C) Tgames 2018
http://tgames.fr
**UPDATE V1.1**
-> Missing sounds in English Cinematics Fixed !
-> Memory error when entering in the Hangar Fixed !
ENGLISH VERSION (UPDATED TO V1.1) :

VERSION FRANCAISE (MIS A JOUR EN V1.1) :

VERSIÓN EN ESPAÑOL (ACTUALIZADO A V1.1) :