2 messages • Page 1 sur 1
[OFFICIAL TOPIC] Atlantis The Lost Tales Extended's Cut V1.0
Hi every Atlantis's fans !
We are proud to annonce the release of the TEST VERSION for Atlantis The Lost Tales EXTENDED'S CUT EDITION !
This new version is a patch/update for the GOG Release.
You NEED to buy/own a copy of Atlantis from GOG Marketplace in order to use the Extended's Cut Edition.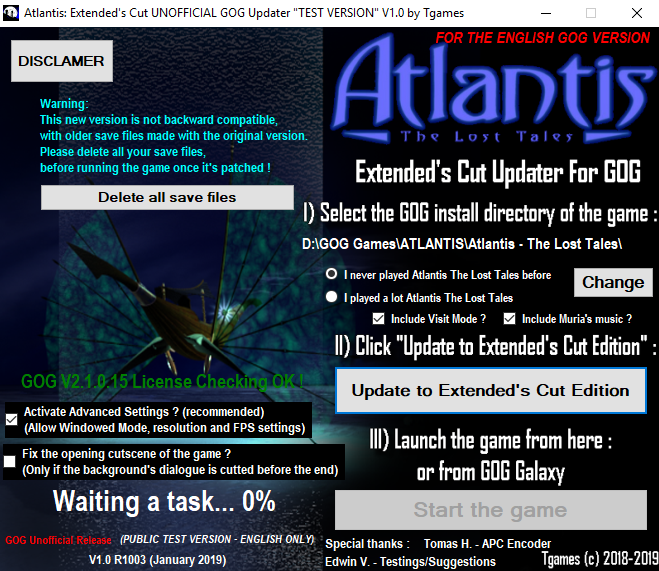 This new version, fix every bugs you can encounter on the GOG Release :
- Fix game too slow or too fast => now gameplay is smooth at 30fps (normal speed)
- Fix every hangs/freeze of the game => now everybody should enjoy the game without any problem
- Fix slow mini games => now mini games runs as normal !
- Fix every characters models => now no graphical bugs/glitches !
- Fix Boar (Ring/Blood) bug => now both can be taken at the same time !
- Fix every CD Swap errors => now no more return to windows when you go to the hangar
BUT also the Extended's Cut add lot of new content on the game :
- 30 new dialogues made by Cryo Interactive (included in the files but never used in the game before)
- 3 new cinematics (included in the files but never used in the game before)
- Muria's Music now used in Muria Area ! (Was made by Pierre Estève but never used by Cryo)
- VISIT MODE : Watch all cinematics of the game (LIKE PS1/SATURN versions !), listen to all musics of the game,
visit hidden area (Creon's secret room, stone cercle, flyer of the beginning of the game...) and of course free visit of all area of the game (all are linked,
like Versailles, Egypt and others games from Cryo).
TRAILER :
--------------
DOWNLOAD "V1.0 R1009 TEST VERSION":
------------------
WARNING :
----------------
This new version is NOT backward compatbile with older save files made under the original version.
Please delete all your save files before running the game once it's patched !
DISCLAMER :
-------------------
This updater is TOTALLY FREE and made to be used with a legal copy of Atlantis: The Lost Tales bought on GOG.
NOT approuved or endorsed by Cryo Interactive, and currents owners of their licenses.
This software is provided FREE and AS IT.
Tgames will NOT gives any warranties or takes any responsability if the software cause damages to your game or your computer.
It's should not, but in any cases we decline any responsability.
You NEED to buy a legal copy of the game from GOG in order to use this patch.
GOG IS NOT contributor, NOT in charge, NOT responsable of this software and will gives NO supports and NO updates for it.
Atlantis: The Lost Tales is a trademark of Cryo Interactive (c) 1997.
All Rights Reserved to the owners of their licenses.
Updater made by Tgames (c) 2018-2019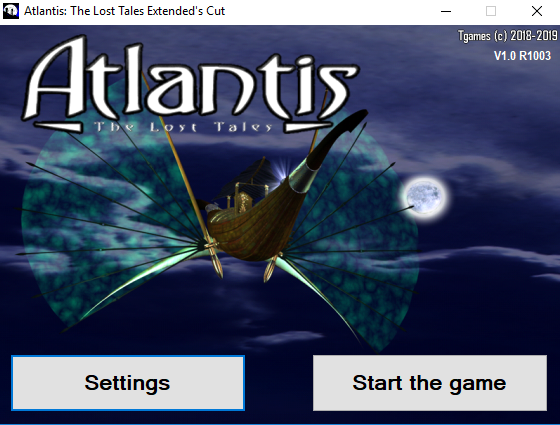 FIX FOR MISSING SOUNDS ON MINI GAMES :
------------------------------------------------------
0) Only do that one time ! Once it's done you should not have to do this again. (Only if a new version of this package comes)
1) Download the fix package here :
(It's currently version A)
2) Extract the WAV folder to the Atlantis's folder (Windows should ask you to replace the directory, answer YES)
3) Run the Atlantis Extended's Cut Updater and update the game !
4) Run the game !
Features :
----------
1) Dialogues with Agatha simplified (3 icons for 1 dialogue => just click for the dialogue)
2) Some adjustments on 2 additionals paths
3) Correction with the earring bug (when we get the earring to Creon and they are still on Seth hands when talking to Agatha)
4) Adding Servage dialogues (You?! - You!) If we go in front of him before the tavern entrance
5) Timeout on the balcony before throwing the flower pot on the head of Servage (20 seconds) => Servage will see you and kill Seth
6) Waiting time for the tavern outside escape, if you takes more than 20 seconds to join Agathe, Lascoyt will catches and kills Seth
7) Garcelos kills Seth if we turn back after entering the window with the ladder
8) Rat Hunter Dialogue added when we open his door ('Come on ! the door is open')
9) Added additionals dialogues on the 1st mini game of the Rat Hunter ('You have awakened another ogre', 'Poor Queen, do you want to do another game?')
10) Creon and Gimbas subtitles dialogues display bug fixed (some texts overlapped)
11) New path in the library (Only if you choose "I already played Atlantis a lot")
12) Footsteps noises of guards after being very far removed (Cryo has forget to remove them)
13) 2 dialogues added for the woman who welcomes us in the kitchen
14) Dialogue of Seth when he wear the pretress costume added.
15) 3 dialogues for the guards of Carbonek added ('Your beer is good', 'Do not stay here', 'I warned you')
16) Paths outside Carbonek with the queen a lot difficult until return to Hector (Only if you choose "I already played Atlantis a lot")
17) 2 cutscenes where Meljanz kills Seth before entering into the throne room added
18) Gameover number 3 added
19) Cinematic where Lascoyle opens the door in the tavern and find Seth added
20) Dialogue 'Hello Seth' says by Meljanz added
21) Dialogue with Anna just before going to the hangar added (now automatic, before manual)
22) Dialogues of the Guards in the Hangar added
23) Error of mixed dialogues of guards in the hangar fixed (Cryo had mixed and forget dialogues between left and right guards, it's fixed!)
24) Timeoout dialog on the flyer with Anna in the bag added (you must be placed on the head of the flyer)
25) Anna's character model now visible in the chief's igloo (Cryo has forget to show her)
26) Area in the cave of Splizberg where two guards wait in front of the door added (was never possible to see it)
27) Dialogue 'Thank you, my children, for your offer. I take her with me in the clouds! in front of the kneeling enemies added
28) Dialogue 'I think I can do without this mask now' after finding with Anna the next destination
29) Way to detach Anna lot easier (Now no need to be precise to detach!)
30) Anna and Seth subtitles dialogues display bug fixed (some texts overlapped)
31) Witch's dialogue after Anna's death added (use the vision stone)
32) Witch's dialogue after the statue was erected (use the vision stone)
33) Hona Ly and Seth subtitles dialogues (about the history of hona's people) display bug fixed (some texts overlapped)
34) Total recreation of the way of dialogue with Hector about Rhea (now no repetition, lot better to undestand)
35) A slight change when talking to Hector to erect the statue.
36) Music at the Muria's Beach added (was never included in the final release)
37) Witch's dialogue when arriving on the beach of Muria added (use the vision stone)
38) Self-suppression of dialogues already spoken with the weaver added
39) Dialogue of the weaver before giving the stone to vision added
40) Weaver's dialogue ('like new') after the marmitte added
41) Dialogues with Hector in Muria added
42) Dialogue with the rat hunter for the whale's eye added
Installation :
--------------
[0] First Reinstall Atlantis The Lost Tales (in english language) from GOG Galaxy
[1] Unzip AtlantisExtendedCutForGOG_ENG.ZIP
[2] Launch AtlantisExtendedCutForGOG_ENG.exe (run it as Administrator !)
[3] You can see the current directory of the game (Normally you don't need to change it)
[4] Delete all your saves, just click on "Delete all save files"
[5] Click on "Update to Extended's Cut Edition"
[5] Launch the game from the updater or with GOG Galaxy
Note: Only launch one time the updater, when it's patched, just start the game normally.
Changelog :
-----------------
V1.0 R1009:
Better "Windowed Full Screen" mode (now auto Windows's task recover)
Lot of optimizations and fixes on Atlantis's Launcher
Handler of dialogues in Meeting with Creon Chapter fixed and changed (now a lot better)
V1.0 R1008:
Add a "Windowed Full Screen" mode for a display in a full screen window.
-> Select a 4:3 resolution in "Settings" of the game (for example : 1280x1024 in 1080p) to preserv 4:3 aspect ratio.
-> To recover Windows's task bar after exiting the game, relaunch and close ATLANTIS.EXE.
V1.0 R1007:
Add lot of fixes to reset the control of timers (all chapters)
Add a fix for the Orchard (the player was blocked if he plays too fast) (thanks RikkuEmpire for finding the bug !)
Add a fix for the gameover with Agatha (Fisher's chapter)
V1.0 R1006:
Add a WAV folder fix for all missings sounds on the GOG Release (not caused by EXE but the corrupted files)(it's a external fix to download separated)
-> Download the package here :
tgames/PC/AtlantisWAVFixA.zip
Fix a bug in fisher's chapter
Fix the shutdown of the water sounds on 3 chapters (Carbonek)
Better handling for closing process who blocks the updater (it will first fail, then wait 5-10min and retry).
V1.0 R1005:
Fix a bug in the forest of Carbonek (thanks RikkuEmpire for finding the bug !)
Delete "Advanced Settings" option.
Now a all-in-one solution for everybody is now proposed.
Fullscreen mode stable and runs without any freeze at 100%.
V1.0 R1004:
Add Support for selecting the number of FPS in without "Advanced Settings" mode (no DxWnd) !
Fonts issue fixed
Few minor fixes and optimizations on the code (launcher + patcher)
V1.0 R1003:
New GOG "License" Checking (it only check if the game has been really installed from the official GOG Setup, because no DRM)
Add support for Windowed Mode, Resolutions Selector and FPS Settings (thanks to DxWnd libraries)
New Atlantis Launcher with sounds taken from the original Cryo's Launcher.
V1.0 R1002 :
Add a fix for the opening cutscene (background dialogues will no longuer be cutted by the cutscene) (Only for Force Compatibility Unchecked !)
Fix Creon's first dialogue (has a large blank after he says his first dialogue, now it's fixed)
V1.0 R1001 :
Initial Public Test release
(C) Tgames 2018-2019
http://tgames.fr
Messages: 3585
Inscription: Dim 21 Sep 2008 11:15
Localisation: France
Sexe:
Wi-Fi: Oui
Firmware Wii: 4.1E
cIOS Wii: Cios57 Rev19
Type de DS: 3DS
Linker DS: M3i Zero
Firmware PS3: 4.00
CFW PS3: 3.55 PS3MFW
Dongle PS3: PS3Key
Type de PSP: Slim
Firmware PSP: 5.00-M33 CFW
---
Messages: 3585
Inscription: Dim 21 Sep 2008 11:15
Localisation: France
Sexe:
Wi-Fi: Oui
Firmware Wii: 4.1E
cIOS Wii: Cios57 Rev19
Type de DS: 3DS
Linker DS: M3i Zero
Firmware PS3: 4.00
CFW PS3: 3.55 PS3MFW
Dongle PS3: PS3Key
Type de PSP: Slim
Firmware PSP: 5.00-M33 CFW
---
---
2 messages • Page 1 sur 1
Retourner vers Logiciels/Patchs PC
Sujets

Réponses
Vus

Dernier message
Utilisateurs parcourant ce forum: Aucun membre et 2 invités