2 messages • Page 1 sur 1
[SOFTWARE] Beyond Atlantis 2 *REAL* HUB & VISIT MODE !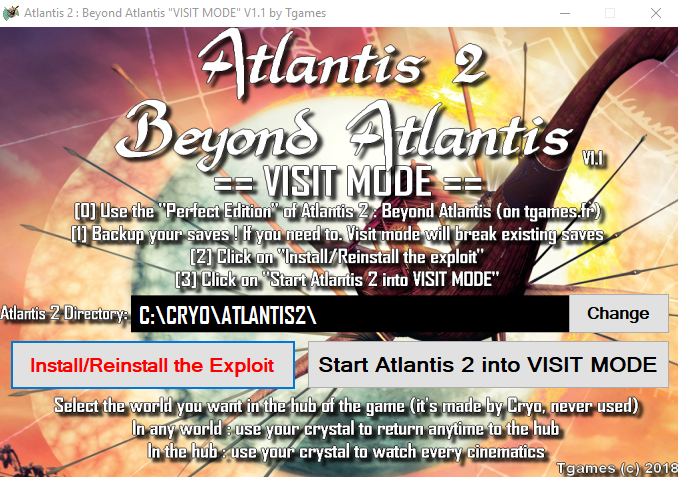 Note:

Should works on Perfect Edition, DVD (game installed) and GOG releases. (English & French versions compatibles).
PERFECT EDITION IS
HERE
Note:

Devrait fonctionner sur la Perfect Edition, DVD (jeu installé sur le disque dur) et la version GOG. (Versions anglaises et françaises compatibles).
LA PERFECT EDITION EST LA
HERE
Code: Tout sélectionner

Atlantis 2 Beyond Atlantis: "VISIT MODE" V1.1 by Tgames
------------------------------------------------------------------

For Atlantis 2: Beyond Atlantis Perfect Edition.

[ENGLISH]

This program is able to allow a "VISIT MODE" in Atlantis 2 using the original hub developped by Cryo

Features :
----------

- Installer/Reinstaller of the Exploit
- Launch the game directly from the launcher
- The hub is totally hard coded into my program (Cryo never let any code to use the hub of Atlantis 2)
- You can watch every cinematics (use your crystal in the hub)
- Go back to the hub by using your crystal in any world
- To go to China by night, click on the shadow in front of the door (use the object you will get to exit)
- To go into space, use your crystal on the circle in the ship in tibet (like in the normal game mode)

Installation :
--------------

[0] Use the "Perfect Edition" of Atlantis 2
[1] Backup your saves ! If you need to. Visit mode will break existing saves
[2] Click on "Install/Reinstall the exploit
[3] Click on "Start Atlantis 2 into VISIT MODE"

Select the world you want in the hub of the game (it's made by Cryo, never used)
In any world : use your crystal to return anytime to the hub
In the hub : use your crystal to watch every cinematics

Changelog :
---------

V1.1 : Small Update, now support any folder on any drive. Just set the installation folder in the software.
V1.0 Public : Everything is present, should be almost perfect.
V1.0 Beta : Proof of Concept Release, lot of functions not implemented.

(C) Tgames 2018
http://tgames.fr

Téléchargement/Download (UPDATED TO V1.1) :
Old Versions Download:
Youtube Officiel du forum Tgames :
ICI
Messages: 3603
Inscription: Dim 21 Sep 2008 11:15
Localisation: France
Sexe:
Wi-Fi: Oui
Firmware Wii: 4.1E
cIOS Wii: Cios57 Rev19
Type de DS: 3DS
Linker DS: M3i Zero
Firmware PS3: 4.00
CFW PS3: 3.55 PS3MFW
Dongle PS3: PS3Key
Type de PSP: Slim
Firmware PSP: 5.00-M33 CFW
---
New version V1.1
V1.1 : Small Update, now support any folder on any drive. Just set the installation folder in the software.
Téléchargement/Download (UPDATED TO V1.1) :
Youtube Officiel du forum Tgames :
ICI
Messages: 3603
Inscription: Dim 21 Sep 2008 11:15
Localisation: France
Sexe:
Wi-Fi: Oui
Firmware Wii: 4.1E
cIOS Wii: Cios57 Rev19
Type de DS: 3DS
Linker DS: M3i Zero
Firmware PS3: 4.00
CFW PS3: 3.55 PS3MFW
Dongle PS3: PS3Key
Type de PSP: Slim
Firmware PSP: 5.00-M33 CFW
---
---
2 messages • Page 1 sur 1
Retourner vers Logiciels/Patchs PC
Sujets

Réponses
Vus

Dernier message
Utilisateurs parcourant ce forum: Aucun membre et 1 invité