[TRAINER] GEX 3D: ENTER THE GECKO Direct 3D Cheats & Debug
Posté:
Lun 9 Avr 2018 10:28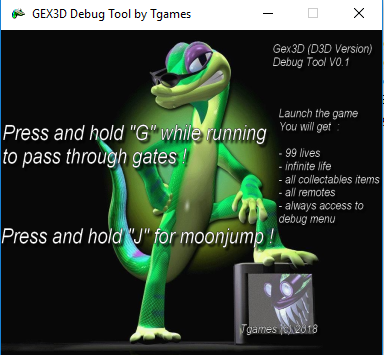 Code: Tout sélectionner

GEX 3D D3D Debug Tool v0.1 By Tgames

Launch the gex3d_d3d_debugtool.exe to apply memory patch to
the game.

It can be launched before or after launching the game.

Note : Some Antivirus could detect my program as false positive.

Tgames (c) 2018

Use F1 to access to debug menu in-game !
Just launch the tool then the game.
Nothing to do, all the patchs will be applied to the game.