10 messages • Page 1 sur 1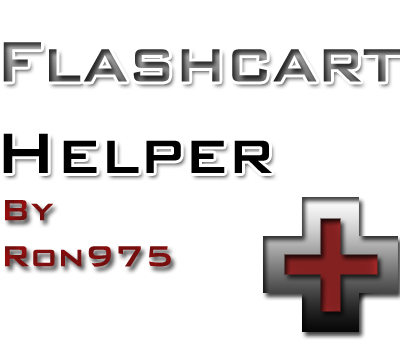 ron975

nous propose enfin son logiciel

FlashcartHelper

en version 0.9 ouvert au public. Le but principal de ce logiciel est d'aider les gens qui ne connaissent rien aux Linkers DS.
Il inclut également des options pour télécharger d'autres outils tels que Advance eNDryptS et le SD Panasonic formater pour une utilisation avec leur Linker.
Changelog:
Changes since 0.9
-Fixed tons of bugs
-Added a Download Queue feature, includes download queue saving
-Basic CMDline support
-Improved Update code
-Updated all Hard-Coded DSi fixes
-Added the ds2skin plugin to be downloaded with the DSTWO plugins
-You can now decompile the program from the main menu
-Some flashcart installs now log to a log file, as well as other functions (start, frec)
-Frec is a custom replacement for del and is licensed under GPL v3. It replaces many delete functions, and instead of deleting, it moves files to a "Trashes" folder.
-A link to the Ds2Skin packs at WikiTemp is at the main menu
-Other new features that I may forget to mention
Anciens Changelog:
Téléchargement
Source
Mini Tuto
Dernière édition par
mamule
le Sam 11 Fév 2012 14:02, édité 6 fois.
Raison:
mise a jour v0.9
Master Gamer

Messages: 2480
Inscription: Lun 3 Jan 2011 14:07
Sexe:
Wi-Fi: Oui
Dongle PS3: Aucun
---
mise a jour 0.5.6
Master Gamer

Messages: 2480
Inscription: Lun 3 Jan 2011 14:07
Sexe:
Wi-Fi: Oui
Dongle PS3: Aucun
---
Master Gamer

Messages: 2480
Inscription: Lun 3 Jan 2011 14:07
Sexe:
Wi-Fi: Oui
Dongle PS3: Aucun
---
Master Gamer

Messages: 2480
Inscription: Lun 3 Jan 2011 14:07
Sexe:
Wi-Fi: Oui
Dongle PS3: Aucun
---
FlashcartHelper 0.7
Master Gamer

Messages: 2480
Inscription: Lun 3 Jan 2011 14:07
Sexe:
Wi-Fi: Oui
Dongle PS3: Aucun
---
Master Gamer

Messages: 2480
Inscription: Lun 3 Jan 2011 14:07
Sexe:
Wi-Fi: Oui
Dongle PS3: Aucun
---
Master Gamer

Messages: 2480
Inscription: Lun 3 Jan 2011 14:07
Sexe:
Wi-Fi: Oui
Dongle PS3: Aucun
---
Master Gamer

Messages: 2480
Inscription: Lun 3 Jan 2011 14:07
Sexe:
Wi-Fi: Oui
Dongle PS3: Aucun
---
r12
-Adds newer DSi updates
-Adds all downloads to download list
Master Gamer

Messages: 2480
Inscription: Lun 3 Jan 2011 14:07
Sexe:
Wi-Fi: Oui
Dongle PS3: Aucun
---
Master Gamer

Messages: 2480
Inscription: Lun 3 Jan 2011 14:07
Sexe:
Wi-Fi: Oui
Dongle PS3: Aucun
---
---
10 messages • Page 1 sur 1
Retourner vers Homebrews DS/DSi/3DS
Utilisateurs parcourant ce forum: Aucun membre et 1 invité